THE COLLECTIVE YOGA MENTORSHIP
September 22 to October 22, 2023 – Fridays and Sundays
Friday workshops open to the public 5:30 pm – 7:00 pm
You have your 200-hour yoga teaching certificate! What's next?
The path to teaching yoga after obtaining your certificate can feel uncertain or daunting… What are effective ways to sequence a class? What muscles do I need to support a backbend? How do I honor and respect the roots of yogic tradition and concepts? This program will answer all those questions and more.
The Collective Yoga Mentorship is a 5-week program September-October 2023 specifically designed for teachers who:
Finished their 200-hour YTT recently and are looking for guidance,
Received their certificate via an online program and are craving in-person mentorship and feedback,
Completed their certification awhile ago and are ready to pick up teaching now,
During these five weeks, you will experience in-depth practices & lectures on: anatomy, philosophy, assists & adjusts, energy, and holding space in a modern world. You will have one dedicated day for practice, lecture, and learning; and one day of honing your skills in a group-led community class — free and open to the public to gain real world experience.
---
This program satisfies the requirements for 25 hours of continuing education for Yoga Alliance.

"Like the butter hidden in milk, the pure consciousness resides in every being; that ought to be constantly churned out by the churning rod of the mind."
The Upanishads
The Collective Yoga Mentorship will run for 5 weeks: Friday, September 22 to Sunday, October 22. We will meet two times per week: Fridays for Practice & Lecture, and Sundays for a Community Class. Each week will focus on a specific theme — such as Anatomy or Philosophy — where you will learn on Friday, and teach a real class to students on Sunday.
FRIDAY EVENINGS (OPEN TO ALL)
PRACTICE & LECTURE
Sundays will start with 90 minutes of practice and lecture surrounding the topic of the week. This first half is open to the public on a drop-in basis. Students, click to sign up.
FRIDAY EVENINGS (COHORT ONLY)
TEACHER DEVELOPMENT
The remaining 90 minutes on Sundays will be cohort-only. We'll dive deeper into how to apply the concepts from practice & lecture to teaching via sequencing, teaching techniques, and assists.
BIPOC, LGBTQ+, and Financial Need scholarships available
PRICING AND LOGISTICS
All sessions will take place at The Collective Yoga Co-op (1830 W Foster Ave). Free street parking is available, no permit required. CTA bus stop & Metra stations are nearby.
Syllabus:
Week 1: Anatomy and Asana
Week 2: Yoga Philosophy
Week 3: Assists & Adjusts
Week 4: Energetic Body
Week 5: Holding Space in a Modern World
Program cost: $500
Because our mission is to break down the barriers of accessibility of the practice, we offer scholarships for BIPOC teachers, LGBTQ+ teachers, and scholarships for Financial Need. Please indicate on your application if you would like to apply for a scholarship.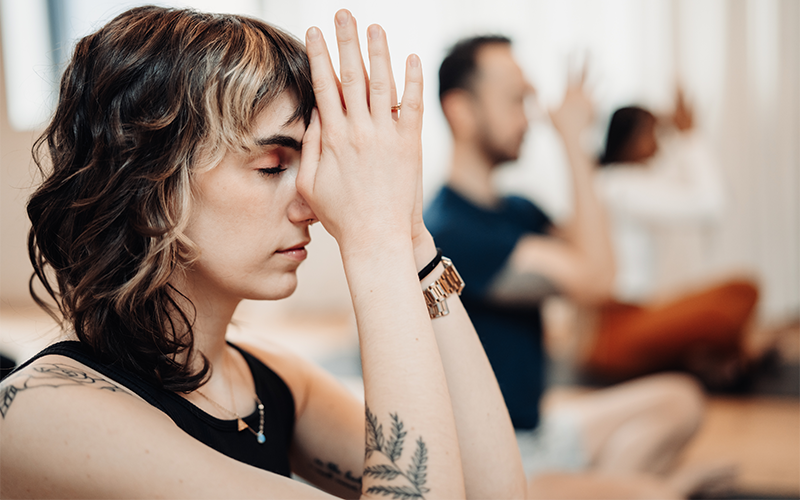 YOUR MENTORS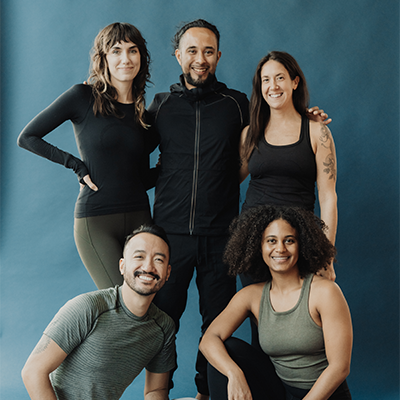 Manny Garcia – Mentoring Lead
Manny is an E-RYT 500 and YACEP with nearly 10 years of practice and 7 years of teaching under his belt. With 3 years of experience at a physical and movement therapy clinic, Manny's teaching lens is highly anatomy, alignment, and education-driven.
Kiyoe Matsuura, Michelle Shea Walker, Paco Garay, Nikki Inniss – Mentoring Coaches
Other co-op teachers will be present to assist in some lectures and offer feedback for some Community Class sessions. They are also available as resources for any questions that arise during our mentorship program.